About Acupuncture Yin Yang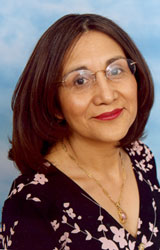 Evangelina Jacobson, President of Acupuncture Yin Yang, P.C.; is a graduate from the New York College of Traditional Chinese Medicine. She earned an award for academic achievement for the Acupuncture program. She also completed her Master's Degree in both Acupuncture and Oriental Medicine. Also, Mrs. Jacobson successfully passed the National Boards for Chinese Herbs, earning the Certification for Chinese Herbs along with a Diploma of Oriental Medicine. She is also a qualified EMT. Previously in 1977, Mrs. Jacobson graduated with special honors from Chemistry School with a Major in Pharmaceutical and Biological Chemistry from the University Autonomous of Nuevo Leon. Mrs. Jacobson worked in Research and Development in PA. She also is a co-founder of one of the most prestigious private schools of Long Island, Progressive School of LI. She also holds a Certification in Advanced Constitutional Facial Renewal.
Evangelina has lectured at international symposiums and lectures at Hofstra University and SUNY Old Westbury. She has practiced at three major international medical centers:
Doctors Hospital, Monterrey Mexico, one of the top ten medical facilities in the world, as well as OCA Hospital and Shanghai Hospital.