Acupuncture
Acupuncture has been recognized by the National Institute of Health (NIH) as well as by The World Health Organization.
Acupuncture is an ancient art therapy that stimulates a Self Healing response. Needles are applied in special areas of the body called acupoints. Acupoints are like doors or windows that offer easy access to the Qi or energy (pronounced as chi) of the body. You can get into a building through the door or through the walls, but it is much easier using the doors, similarly the acupoints are utilized in acupuncture to reestablish the balance of the body or to remove blockages that prevent the proper movement of Qi (pronounced as chi) and blood circulation. Such imbalances and blockages cause illness and pain. In cases of injuries, it is easy to observe black and blue areas, as well as tenderness or pain in such areas. Although sometimes these blockages are not so obvious, they still cause imbalances and pain in the body. The needles stimulate the acupoints to generate a response from the body, activating the Qi (pronounced as chi) and blood circulation, balancing the subtle energy fields, as well as releasing endorphins that are natural pain killers of the body.
Click here for questions about acupuncture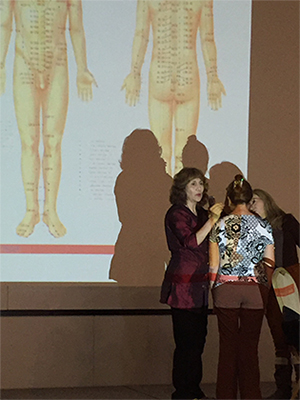 License Acupuncturist Evangelina Jacobson, is giving a lecture and a demonstration to other acupuncturist at an International Symposium
Here are some of the other areas that our treatments have helped serious health issues.
Breathing Difficulties
Allergies
Asthma
Shingles
Acne
Frequency of Urination
Elevated Liver Enzymes
Arthritis
Click here for testimonials related to these topics
PAIN MANAGEMENT
Why should Acupuncture be used in Pain Management?
CLICK HERE FOR FULL BROCHURE AND MORE INFO
When someone suffers from pain, ACUPUNCTURE is the perfect solution. Not only is it safe and effective for general body pain, it is even more gentle than massage therapy and doesn't have the harmful side effects experienced from medication. For this reason, acupuncture can be used to treat BOTH mild & severe forms of pain or trauma, and is also appropriate to be used before physical therapy or other strenuous modalities.
ACUPUNCTURE also speeds up the process of self-healing, by preparing the patient for more strenuous forms of physical therapy. In the long run, ACUPUNCTURE will enhance the effectiveness of any therapeutic steps taken thereafter.
Acupuncture Today
July, 2009, Vol. 10, Issue 07
Acupuncture Found Effective for Back Pain
Study finds it superior to usual care…
Daniel C. Cherkin, PhD, and colleagues examined a group of 638 patients suffering from back pain to determine not only if acupuncture is superior to usual care for treating back pain, but to see if needle insertion at individualized points is the mechanism of action by which acupuncture works best. A total of 10 acupuncture treatments was provided over the course of eight weeks.

According to Josephine P. Briggs, MD, director of the National Center for Complementary and Alternative Medicine, "The findings of this research show that acupuncture-like treatments, including simulated acupuncture, can elicit positive responses. This adds to the growing body of evidence that there is something meaningful taking place during acupuncture treatments outside of actual needling. Future research is needed to delve deeper into what is evoking these responses."

Testimonials
"Eva's treatments were the best thing I could have done… she helped me regain a semblance of a normal life. Words cannot express how grateful I am to her."
"I have noticed a remarkable change in my pain. I do not need to take my prescribed medications on most days now… My entire body just feels better. I would recommend Eva as an acupuncturist to anyone with serious pain…"
"'I wish I had gone sooner' is the response I get from family members and friends referred to Eva's practice… For your healing, inspiration and generous sharing of knowledge – Eva, thank you."

ORIENTAL MEDICINE
Chinese Medicine is a drug free healing tradition developed and perfected over thousands of years. It directs the body's energy flows to promote the self-healing power each cell contains. It incorporates not only Acupuncture and Chinese herbs, but also a lifestyle which includes Qi Gong, Tai Chi and diet, as well as a mental attitude.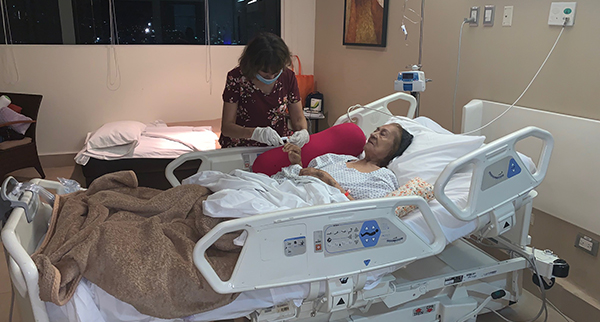 Our NYS License Acupuncturist has given acupuncture treatments at the Doctors Hospital, the Oca Hospital in Mexico and at the Shanghai Hospital in China.
Click here for questions about oriental medicine
QUITTING SMOKING
Congratulations! You want to stop smoking!
If you smoke, quitting is probably the most important decision you're making now.
Stopping smoking may not only add years to your life, but will also improve the quality of those years. Also if you stop smoking you will be saving your family and people around you from second hand smoke which can also cause asthma, lung cancer, etc.
Nicotine smoking has been associated with many illnesses such as pregnancy problems, lung disease, heart disease, stroke and cancer. In the United States alone more than 400,000 people die each year due to smoking related diseases.
So please, don't give up this time until you succeed!
Acupuncture Yin Yang can help you. We combine several modalities: body acupuncture, ear acupuncture, Chinese aromatherapy, and herbal treatment.
If you are determined to quit smoking, so are we determined to help. Give us a call as soon as possible!
Click here for testimonials related to quitting smoking
BELL'S PALSY
If you or someone you know has been diagnosed with Bell's Palsy give us a call as soon as possible. The sooner we start your treatment the better chances you have to complete recovery. In our office we have the best and the newest in technology.
These are pictures of one of our patients that had complete recovery within 22 days after his initial visit to our office.
Click here for testimonials related to Bell's Palsy
CANCER
Acupuncture and Chinese herbs can be very helpful when a patient is going through radiation therapy or chemotherapy. It helps to control pain, as well as nausea and other side effects of conventional treatments. It also strengthens the immune system.
Click here for testimonials related to Cancer
We are proud to offer acupuncture & Chinese herbal treatments for infertility, which have recently been accredited by the AMS as increasing the odds of impregnation in conjunction with western infertility treatments up to 40%-60% success (Acupuncture & IVF by Lifang Liang O.M.D.;Ph.D, L.ac.)
CLICK HERE FOR FULL BROCHURE AND MORE INFO
WHY SHOULD ACUPUNCTURE BE USED IN INFERTILITY TREATMENTS?
It can be used in conjunction with or separate from IVF treatment.
Acupuncture and Chinese medicines help to improve ovarian function, allowing for the development of better quality eggs and strong, healthy embryos. Acupuncture and Chinese medicine can also regulate estrogen and progesterone levels, thereby thickening the lining of the uterus.
For those undergoing or considering IVF, a large number of patients who have tried IVF several times and were unsuccessful have soon become pregnant after acupuncture and Chinese medicinal treatments. In clinical observation, the ultrasound shows that, after acupuncture, the color of women's ovaries change from cloudy to bright and clear. The follicles usually double in number, the lining of the uterus becomes thicker, and the number of embryos increase significantly. Patients experience less side-effects from the Western drugs, and feel more at ease and happy.
RESEARCH SHOWS!
Acupuncture:
1. Improves the function of the ovaries to produce better quality eggs.
2. Regulates the hormones to produce a larger number of follicles.
3. Increases blood flow to the uterus and increases the thickness of the uterus lining.
4. Relaxes the patient and decreases their stress.
5. Prevents the uterus from contracting.
6. Lessens the side effects of drugs used in IVF.
7. Strengthens the immune system.
8. Improves semen to create better quality and quantity of embryos.
9. Decreases the chances of miscarriage.

TESTIMONIALS
"Dear Eva, thank you for all your help! I truly believe your treatments enabled me to conceive…"
"Dear Evangelina, my husband and I have been trying to conceive for over a year and a half… After four unsuccessful IUIs and one IVF cycle, I decided to receive acupuncture treatment while undergoing my second IVF cycle. I am happy to say that I am now 9 weeks pregnant and I can't thank you enough… I truly believe that it was your acupuncture treatments that increased my chances of conceiving. I highly recommend your services to anyone in need…"
"Eva – Thank you for everything. I truly believe my treatments with you are what got me pregnant."

STROKE RECOVERY
Stroke recovery can be very difficult. Please call our office if you or someone you know is facing this situation. We have the best and newest in equipment. Treatments can include electro-medicine techniques, in conjunction with acupuncture and Chinese herbs.